Would you like to help us and commit to our cause?
Organize or take part in an action for CANSEARCH (CANDO)!
CANGOLF
On Sunday 12 June 2022, the 2nd edition of CANGOLF took place at the Club de Bonmont. Over a hundred players were present for a magnificent golf competition in aid of CANSEARCH! Thank you to all the participants, to the main sponsor Banque Bordier and to the donors of the raffle prizes.
RACE FOR GIFT
On Sunday, May 22, 2022, the 6th edition of the RACE FOR GIFT solidarity run and walk took place on the Mont-Blanc rotunda in Geneva, after a 2-year break due to the covid crisis.
With more than 60 participants committed to CANSEARCH, more than CHF 50'000 were collected to finance the CANHELP Support Fund, which aims to provide assistance to children with cancer and their families, treated in the Unit, as well as to children from Ukraine treated in the same department.
A huge THANK YOU to all the walkers, runners and donors, individuals and companies who made this day a magnificent sporting and charitable moment filled with emotions, joy and good humor!
See you next year for a new edition!
CONCERT EVIC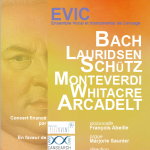 The concert of the Vocal and Instrumental Ensemble of Carouge in aid of CANSEARCH will finally take place, after several postponements due to covid, on Sunday 3 October 2021 at 5pm at the Temple de Saint-Gervais. Thanks to the tenacity of its organizer, Sylvie Cornaz, the choristers and musicians, this musical moment will delight the public present that evening. Many thanks for this wonderful vote of confidence!
TRIPTRAP
To mark "Golden September", the month of awareness for child cancer, Gian Cla Pinösch, co-founder of the TRIP TRAP escape game, organised a day of support, followed by an aperitif, in order to make our action known to a wider public. Thank you for this original action!